Diagnosis of platelet disorders in thrombocytopenic patients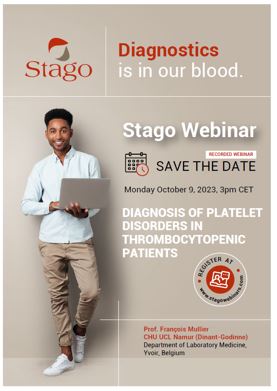 Diagnosis of platelet disorders in thrombocytopenic patients
Spontaneous bleeding, or excessive bleeding during or after an injury, is suggestive of an underlying hemostatic disorder. Thus, bleeding is a frequently occurring complication and may be the cause of death in thrombocytopenic patients, but not all patients with thrombocytopenia experience bleeding. Indeed, low platelet count does not always correlate with bleeding manifestations and other factors are thus likely to contribute to this risk, especially platelet function which is important to monitor.
Among the many causes of thrombocytopenia, we can distinguish between thrombocytopenia of inherited origin and thrombocytopenia of acquired origin. Inherited thrombocytopenias are classified depending the mean platelet volume (small, normal or large). Acquired thrombocytopenias are classified according to the mechanism of platelet destruction of which the most described are : Immune Thrombocytopenia (ITP), Drug-Induced Thrombocytopenia (DITP) including Heparin-Induced Thrombocytopenia (HIT), Thrombotic Thrombocytopenic Purpura (TTP), Neonatal AlloImmune Thrombocytopenia (NAIT) and Fetal and Neonatal AlloImmune Thrombocytopenia (FNAIT).
There is still a need for improved platelet function diagnostics for thrombocytopenic samples observed in many clinical situations, in which platelet count is low (<100 G/L) or very low (<5 to 10 G/L). Beside platelet count and blood smear, choosing the most appropriate methodology for the diagnosis of platelet dysfunctions may be difficult.
The aim of this webinar is to review clinical laboratory tests available for diagnosis of platelet disorders and compatible with low platelet count.